November 15, 2018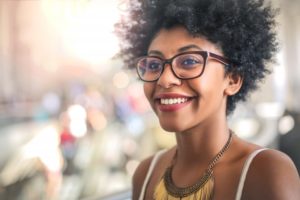 You've lived with flaws in your smile long enough. Now it's time to see the results you've been waiting for with porcelain veneers in Studio City, but first, there are some steps you should take to prepare for your visit. As you read on, your cosmetic dentist explains what you can do to ensure you have a comfortable procedure.
What to Do Before You Visit for Porcelain Veneers
The following are three things you should do before showing up to have your porcelain veneers placed:
Eat Well – The porcelain veneers process is highly customized, so the amount of time you'll spend at your visit depends on the complexity of the treatment you need. Therefore, it's best to eat a nutritious meal beforehand so you won't have to deal with an "angry stomach."
Be Well-Rested – The night before your appointment, you should be sure to rest well. Getting proper sleep always translates into a more comfortable visit.
Bring a Snack – As a precaution, it's a good idea to bring a snack with you to the visit. Thus, if it takes longer than expected, you'll have something to munch on when the work is done.
How Your Cosmetic Dentist Helps Out
Along with the things you should do at home to prepare for your visit, the following shows how your cosmetic dentist can help you prepare to receive your porcelain veneers:
Sedation Dentistry – While sedation dentistry typically isn't used for a minimally-invasive procedure like porcelain veneers, it can be used if you suffer from dental anxiety. Therefore, you can be relaxed while your smile is being perfected.
Local Anesthesia Applied – Your cosmetic dentist may also apply local anesthesia to numb the teeth and surrounding areas to prevent any sensitivity during the procedure.
You're a Step Closer!
Now that you know what to do to prepare your porcelain veneers appointment, you're a step closer to completely changing your life in a positive manner. Not only will your new veneers leave you with a better-looking smile, they will also result in more functional teeth.
Furthermore, you can expect better digestion from chewing your food evenly, and you'll speak with more clarity. Additionally, you'll be able to perform better oral hygiene with straighter teeth.
Your cosmetic dentist in Studio City is eager to help you speed down the path to smile perfection. To schedule a consultation, don't hesitate to reach out today!
About the Author
Dr. Proshat Shahrestany earned her dental degree from the UCLA School of Dentistry. She has since gone on to provide the absolute best in dental care to her patients for nearly 20 years. An authority in the field of cosmetic dentistry, Dr. Shahrestany specializes in the application of porcelain veneers, and she takes pride in helping each of her patients enjoy the smile of their dreams at Studio City Dental Arts. She can be reached for more information through her website.
Comments Off

on How to Prepare for Porcelain Veneers in Studio City!
No Comments
No comments yet.
RSS feed for comments on this post.
Sorry, the comment form is closed at this time.