Invisalign® Clear Braces – Studio City, CA
Your Best Option for Clear & Comfortable Orthodontics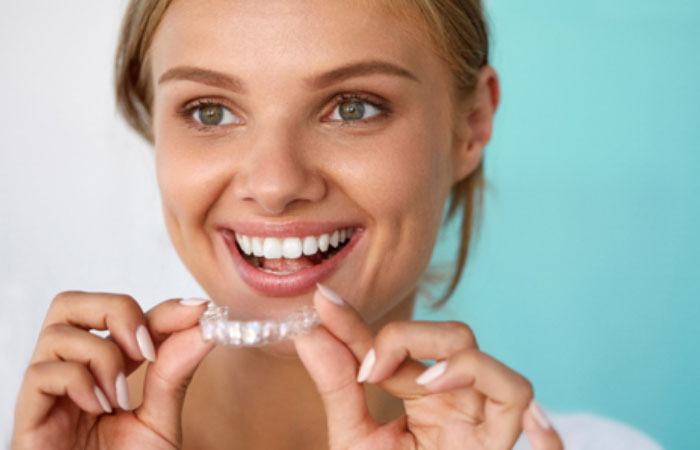 Are you suffering from crooked or misaligned teeth but don't want to deal with unsightly traditional braces? Invisalign might be the best option for you! Invisalign is an orthodontic treatment that straightens your teeth by employing a set of virtually invisible and removable custom aligners. At Studio City Dental Arts, we are experienced in using Invisalign clear braces to provide our patients with their desired results. Read on to learn more about this treatment and whether or not it's right for you.
How Invisalign Works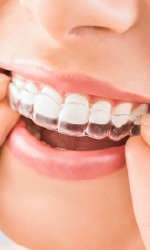 First, you'll visit our office for a consultation, where we will evaluate your mouth to see if Invisalign is the right option for you. We will be able to tell you how many aligners you will need and how long the treatment will take. Transparent aligners will be custom made for each individual patient. They are devised to fit properly over your existing teeth, and using specifically placed pressure, will straighten your teeth, moving them into proper alignment. Generally, the aligners are replaced each couple of weeks, allowing the teeth to move into the right position more quickly than traditional braces. Dr. Shahrestany will come up with a custom treatment plan that replaces the aligners gradually, bringing you closer to a perfect smile with every step.
Indications for Invisalign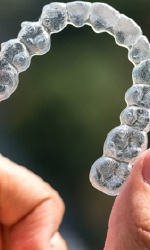 Invisalign can be used to treat various common orthodontic issues. You may be a candidate for clear braces if you have:
Crowded Teeth
Teeth that are squeezed too close together can not only affect the appearance of your smile, but they can also increase your risk of problems like tooth decay and gum disease. These small spaces are harder to brush and floss, allowing plaque and bacteria to collect easier. We can use Invisalign to create more space for your teeth to align properly.
Spaces Between Teeth
As with crowded teeth, spaces in between your dental structure can cause more problems than the appearance of gaps in your smile. A space in your smile is the perfect home for bacteria to breed, which can cause gum disease and cavities. Using Invisalign, we can close the gaps in your smile for a straight and complete set of teeth.
Bite Alignment
Problems like overbite, underbite, and crossbite can put extra stress on certain parts of your smile and can even cause issues like teeth grinding and jaw clenching. Invisalign can help with these mild to moderate problems, giving you a healthy bite.
Benefits of Invisalign Clear Braces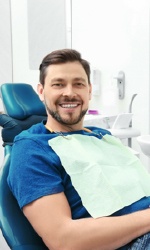 We offer Invisalign clear braces in Studio City because they can give you benefits that you simply can't get with traditional orthodontics:
Their clear design allows you to straighten your teeth in the most discreet way possible.
Made with smooth plastic, Invisalign aligners are comfortable and easy to wear.
Because Invisalign is completely removeable, you'll be able to eat all of your favorite foods without worrying about damaging traditional brackets and wires.
Typically, the treatment time for Invisalign is between 8 and 18 months, which is much shorter than traditional braces (on average).
Understanding the Cost of Invisalign
The cost of your Invisalign in Studio City is difficult to estimate because of variables like the severity of your misalignment as well as your commitment to wearing your aligners as instructed. There may also need to be replacement aligners or adjustments during treatment that cannot be accounted for. The best way to get a fair and precise estimate is to come into our office for a consultation. Dr. Shahrestany will carefully examine your smile to develop a personalized treatment plan that includes your cost. Until then, read on to learn more about the factors that contribute to the price of your clear aligners!
Factors that Affect the Cost of Invisalign
The price of your Invisalign will vary based on a few different factors, including:
Whether you're straightening one arch or both – while it's less common, getting Invisalign for one arch will cost less than both.
The overall complexity of your case – do you have a single gap in your smile, multiple areas of crookedness, or miss alignment? The more movement that needs to occur, the higher your cost will typically be.
The length of treatment – longer treatment time will require more aligners, leading to a higher price.
Invisalign VS Smile Direct Club™: Which Costs More?
Invisalign usually costs between $3,000 and $5,000, while Smile Direct Club is a little under $2,000. So, if you're looking for the cheapest, quickest fix, then Smile Direct Club wins. That said, you must remember that this option involves a do-it-yourself orthodontics kit with little-to-no supervision throughout the entire process. While straightening your teeth, many things can go wrong, which may require more expensive and extensive professional treatment anyway.
However, by choosing Invisalign, you'll have the help of our Invisalign dentist in Studio City throughout the entire treatment. Plus, you'll get professionally made, precise impressions that lead to smoother, more personalized results. That's why Invisalign is clearly the best choice if you want to feel confident and comfortable during your treatment.
Does Dental Insurance Cover Invisalign?
Usually, insurance plans include some type of coverage for orthodontics, however Invisalign in Studio City is typically left out. But this is not always the case. That's why it's a good idea to check with your provider before making any final decisions. Our friendly team is also always willing to communicate with your insurance directly to maximize any benefits you may have. Additionally, if you have an FSA account, you can use it to help cover your costs.
Options for Making Invisalign Affordable
Is your dental care not covered by insurance? No problem! We are committed to making straight teeth affordable for all budgets. That's why we offer alternative financing options through CareCredit. With this solution, you can choose the monthly payment plan that works best for you. Each month, you'll pay a small fee – the best part is, it comes with low to no interest. We are ready to help Studio City patients get the beautifully aligned smiles they deserve. Contact us to schedule a consultation and learn more about the financial details of your treatment.
Invisalign® Teen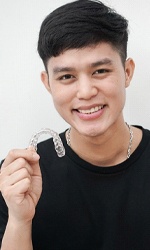 Nowadays, teenagers want to look their best, and if braces come calling, it can mean a mouth full of metal. Well, not with Invisalign Teen! This convenient and more discreet method of treatment will help your teenager feel confident about their smile, even while their teeth are moving toward their new position. Instead of using metal brackets and wires, Invisalign Teen uses clear, custom-made aligners that make it possible for teeth to become straight without the added spotlight traditional braces can attract.
Invisalign vs. Traditional Metal Braces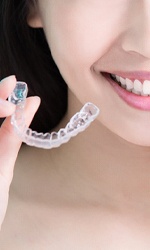 The differences between Invisalign in Studio City and traditional metal braces are many:
Material – Invisalign uses a clear, plastic aligner to straighten teeth, whereas, traditional braces consist of hard metal brackets and wires.
Length of Treatment – On average, patients with Invisalign can expect to be done with treatment between 8 and 18 months. Traditional braces typically require several years of treatment.
Discomfort Level – Invisalign gently shifts the teeth, making it less painful. The discomfort will usually pass within a few days and an over-the-counter pain reliever will help. Metal braces require a forceful wire tightening to move the teeth. This can lead to days of extreme discomfort.
Irritation – Clear aligners are smooth, making it a more enjoyable experience because there is less rubbing against the soft tissues of your mouth. Metal brackets and wires protrude just enough to irritate your cheeks, tongue, lips, and gums.
Who Makes A Good Candidate for Invisalign?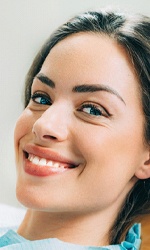 When determining if you or your teenager is a good candidate for Invisalign, there are a few things to ask:
Do you have crowded or crooked teeth, gaps between your teeth, or a bite alignment issue?
Do you want a solution that keeps the spotlight off your smile while it's being treated?
Are you or your teen committed to wearing your aligners the necessary amount of time each day?
Will you be diligent in keeping your aligners clean and free from harmful bacteria that can result in tooth decay or gum disease?
Will you be dedicated to wearing a retainer after your treatment is complete to prevent your teeth from shifting back into their original spot?
If you answered "yes" to all the above questions, it might just mean you can seek treatment with Invisalign, but it is important to know that your orthodontist in Studio City is the only one who will be able to effectively examine and determine if you or your teen can move forward with Invisalign treatment.
How to Care for Invisalign Aligners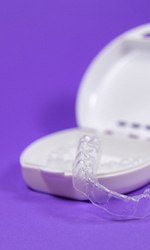 To ensure your Invisalign aligners stay in the best condition throughout your treatment, there are a few things you can do to care for them:
Clean them using a toothbrush, clear soap, and lukewarm water. Never use hot water to clean your aligners. It will warp the plastic.
Keep them in a protective case when you're eating or drinking. This will prevent them from becoming damaged should you accidentally drop them.
Never place your trays in a napkin when taking them out to eat. They can be easily discarded.
Avoid eating or drinking dark-colored beverages, as the stain can transfer from your teeth to your aligners, especially if you do not rinse out your mouth with water or brush your teeth immediately after consuming.
Invisalign FAQs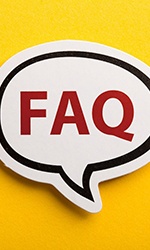 Whether you're a teenager or an adult, it's never too early or late to straighten your teeth and improve your oral health. With Invisalign in Studio City, patients don't have to endure the cumbersome look and discomfort that goes along with getting traditional metal braces. Instead, they'll have removeable, smooth, FDA-approved plastic aligners that are practically unnoticeable. If you're considering fixing your grin, it's never too late. Below, we've compiled some common questions that we receive about the treatment.
Do I need to schedule a consultation to get Invisalign?
The first step of getting Invisalign is to schedule a consultation with your dentist in Studio City. We'll take several photos and X-rays of your teeth and facial structure to see the severity of the orthodontic issues that need to be fixed to ensure that Invisalign can meet your needs. We'll than craft your treatment timeline and show you how your smile should look by the end of it. After answering any additional questions you have and talking to you about what your life will look like while you're undergoing treatment, it'll be a couple of weeks before you come back to pick up your first set of aligners.
How long will it take to straighten my teeth with Invisalign?
Everybody's mouth is different, and there are a variety of factors that go into what your treatment time will look like. These include the structure of your mouth, whether you have bite problems that need fixed, and if you're diligent about keeping your aligners in for 22 hours each day. The average treatment for Invisalign lasts between eight and 14 months. To find out how long yours will be, visit your dentist in Studio City for a consultation.
How often will I need to visit my dentist during my Invisalign treatment?
Depending on what we deem necessary during your consultation, patients typically come in every six to eight weeks. These visits are short and last anywhere from 15 minutes to a half-hour, so you can easily squeeze them into a lunch break. We'll examine the progress you're making, make sure your mouth is healthy, and give you your next set of aligners.
Will Invisalign change the way I talk?
Just like any oral appliance, when you first put your Invisalign trays in, you'll notice that they make your mouth feel different. During the first week of your treatment, you'll go through an adjustment period where you'll become more familiar and comfortable with having your aligners in your mouth. This may cause you to have a slight lisp or increased saliva production. However, it's nothing that won't go away. After the first few days, you should have no problem speaking with ease.
Do I need to wear a retainer after Invisalign treatment?
Yes, after getting Invisalign in Studio City, you'll need to wear a retainer to keep your smile straight. If not, your teeth will gradually shift back into their original positions, throwing all your hard work out the window. Some patients are eligible to get permanent retainers, and some may only have to wear theirs during the night, depending on what your dentist recommends after you complete your treatment.
Does Invisalign Hurt?
No! Thanks to its smooth plastic design, Invisalign in Studio City is one of the most comfortable orthodontic treatment options available. However, when you wear your Invisalign aligners, there is an adjustment period. You may experience slight soreness or discomfort, but this will go away as your teeth get used to the treatment. Each time you switch to the next aligner in the series, you may experience a small amount of pressure – but that's how you know your treatment is working. To manage any mild soreness, you can take over-the-counter pain medication and/or use a cold compress.
Can You Get Invisalign After Braces?
Possibly – it all depends on your specific needs. In general, traditional metal braces can correct more severe overbites, underbites, and crossbites that Invisalign cannot. For this reason, many patients elect to get traditional braces first and then switch to Invisalign later. In some cases, teeth may have grown crooked or misaligned years after they've completed treatment with braces. In this scenario, Invisalign will likely be able to help readjust the patient's smile.
What if My Invisalign Broke?
Invisalign clear aligners are built to last with durable plastic. However, it is still possible for them to break, crack, scratch, or get damaged, especially if you are not careful. If hairline cracks occur, your aligner can still be used but you must be extra careful when removing it and putting it back in your mouth. Minimize bending by using a flat edge to take your aligner out and apply even pressure when placing it back in. Never try to repair a damaged aligner on your own – you may end up doing more harm than good! Using super glue on a broken or cracked aligner will put the health of your smile at risk with a potentially toxic substance in your mouth for at least 20 hours per day. Instead of attempting DIY repair, contact a cosmetic dentist in Studio City instead. In some cases, you'll be able to switch to the next aligner if you're within 3 days of finishing your current set.
Who Is Not Eligible for Invisalign?
Almost any patient who has their full, permanent teeth can use Invisalign aligners. This means that kids as young as 13 as well as adults can enjoy this treatment. However, there are certain exceptions. In some cases, bite misalignment is too severe to be corrected with clear aligners, making braces or other orthodontics necessary. Additionally, Invisalign in Studio City may not be right for patients with extra small, misshapen, or eroded teeth. In these cases, additional dental work must be performed. Finally, smokers who are unable to kick the habit may not be good candidates for Invisalign, as tobacco stains aligners and puts oral health at risk.
Who Invented Invisalign?
Invisalign was first created in 1997 by Zia Chishti and Kelsey Wirth in San Jose, California. It may surprise you to learn that Zia Chisti is not an orthodontist or a dentist! He majored in Computer Science and Economics at Columbia University before going on to get his MBA at Stanford. It was his own experience undergoing traditional orthodontic treatment as a student at Stanford that inspired him to invent a system of clear braces. Chishti worked on the concept in his dorm room before graduating from Stanford and founding Align Technologies, LTD with other students. Today, Chishti is no longer with the company but over 10 million people have enjoyed the benefits of his invention.