October 15, 2018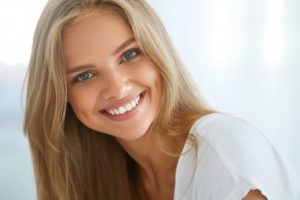 A recent study shows that of the new people you meet, a third of them will notice the condition of your teeth before anything else. Another data set reveals that having an aesthetically-pleasing smile increases your chances of attaining employment or having a successful business encounter. If your ivories need to be rejuvenated, porcelain veneers in Studio City may be just right for you. Your cosmetic dentist provides all the details about the process you need to know!
What are Porcelain Veneers?
Porcelain veneers are wafer-thin shells that are made from dental-grade ceramics. They come in different shades to match the appearance of your other teeth in the smile zone, and they are able to mask any imperfections.
The process usually takes two visits to complete and includes the following steps:
Teeth Preparation – Your cosmetic dentist will first remove a thin layer of enamel from your teeth to allow the veneers to fit seamlessly into your smile line.
Bite Impressions Taken – Next, bite impressions of your teeth will be captured and used to create your veneers. Meanwhile, you'll be fitted with a temporary set of shells.
Fabrication of Permanent Veneers – Your smile specifications are then sent to an in-network lab that will fabricate the permanent veneers.
Final Placement and Adjustments – When they're ready, you'll return to your cosmetic dentist's office to be fitted with your permanent shells. The professional will also check to make sure no final adjustments need to be made.
What are the Benefits?
Porcelain veneers provide a faster way to remake your smile than traditional orthodontics, and they can address the following imperfections:
Gaps
Stains
Crowding
Crookedness
Misalignment
Along with making improvements to these areas, porcelain veneers also leave you feeling more confident and excited about taking new strides in life.
Who's a Good Candidate for Veneers?
The right person for porcelain veneers will have excellent oral health. Thus, any cavities or early signs of gum disease must be addressed before the process starts.
This contributes to the longevity of your fixtures because, although they aren't subject to decay, porcelain veneers still rely upon the health of your gums and the teeth underneath to be fully functional.
It's also important to practice excellent oral hygiene, which should include brushing and flossing your teeth at least two times to remove harmful bacteria and debris that could contribute to the demise of your veneers.
To learn more about the process and have your teeth examined, reach out to your cosmetic dentist in Studio City today to schedule a visit, and prepare to experience the joys of a remade smile!
About the Author
Dr. Proshat Shahrestany earned her dental degree from the UCLA School of Dentistry. She has since gone on to change lives through providing expert dental care for nearly two decades. Additionally, she has received advanced training in a variety of cosmetic dentistry procedures, including the placement of porcelain veneers. Dr. Shahrestany helps patients enjoy beautiful smiles with porcelain veneers at Studio City Dental Arts, and she can be reached for more information through her website.
Comments Off

on Remake Your Smile with Porcelain Veneers in Studio City!
No Comments
No comments yet.
RSS feed for comments on this post.
Sorry, the comment form is closed at this time.