Meet Your Trusted Studio City Dental Team
We like to say that we have a team that is small but mighty! Whether you're scheduling an appointment, have a question about a treatment, or need help understanding your financial options, our dental team will be there with a smile to make sure you have everything you need. They'll make you feel right at home starting at your very first visit. To start getting to know the friendly faces here at Studio City Dental Arts, read on below.
Glenda, Front Office/Treatment Coordinator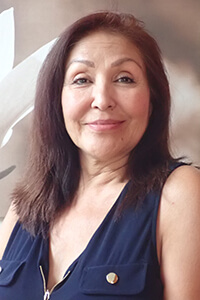 Glenda first joined our practice three years ago, but she has well over two decades of experience in dentistry overall. She attended Pierce College and Mission College before undertaking courses at the Valley School for Dental Assisting. She is trained as a Registered Dental Assistant and an Oral Surgery Assistant and has also received specialized education in dental implants. What she enjoys most about her work is spending time with her awesome boss Dr. Shahrestany and the wonderful patients every day!
Originally from Tucson, AZ, Glenda has three smart, beautiful daughters, a Cocker Spaniel named Bailey and a cat named Baby Girl. Her hobbies include hiking, art, music, and going on weekend getaways. She is also passionate about animal rescue and speaks both English and Spanish.
Alma, Registered Dental Assistant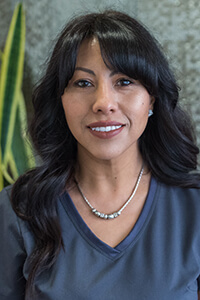 Alma is a Los Angeles native, and her career in the dental field covers almost two decades so far, with the last three and a half spent right here at Studio City Dental Arts. She earned her education from Los Angeles Trade Tech and is trained in a wide variety of areas, including X-rays, coronal polishing, CPR,/AED, California law and infection control, OSHA, advanced adhesive aesthetics (from LVI Global), tooth-colored restorations, esthetic dentistry, preventive dentistry with fluoride varnish, nutrition, nitrous oxide, tooth erosion, and more. She considers it a true joy and a rewarding experience to work in the field of cosmetic dentistry. It enables her to witness how a new, beautiful smile can change a person's life!
Outside of the practice, Alma's family consists of her grown daughter, her mother, her boyfriend, her step-daughter, and two beloved cats. In her free time, she enjoys cooking creative healthy recipes, and spending time with her loved ones. Some say she may be the most organized person in the world. She also continues to invest her time in the dental field, staying self-motivated and keeping up-to-date with changes in the profession.
Maddie, Registered Dental Assistant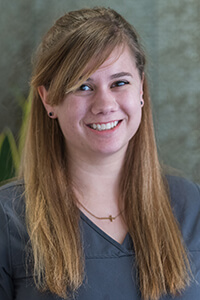 Maddie studied dentistry at UEI Encino, and she is trained in CPR, X-rays, coronal polishing, and pit and fissure sealants as well. Today, her career spans three years and counting. She loves helping creating wonderful smiles for patients in need!
Maddie is from St. Louis, MO originally. She and her boyfriend have a four-year-old daughter, two guinea pigs, and two dogs at home. When she isn't busy at work, she spends her time hiking, volunteering at her church and BTAC, and going to the Getty. She is also a big bug enthusiast and has never met a bad joke/pun she didn't like. Ask her who a pig's favorite president is during your next visit!