Dental Implants — Studio City, CA
State-of-the-Art Solution for Missing Teeth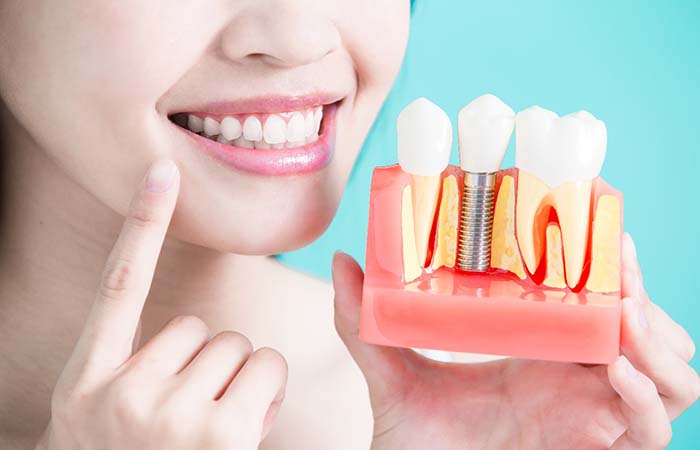 Tooth loss is a problem for many people. Whether from old age, gum disease, trauma, or any other reason, 120 million Americans are missing at least one tooth. Not only do these gaps in your smile have a negative impact on your confidence and appearance, but they can influence your oral health and quality of life as well. Traditional tooth replacement options like dentures and dental bridges help prevent some of the complications of tooth loss, but they come with a host of disadvantages. If you're looking for a state-of-the-art solution for missing teeth, there's no better choice than dental implants in Studio City. Call us today to schedule your consultation and begin your journey towards the complete, confident smile you deserve!
Why Choose Studio City Dental Arts For Dental Implants?
Experienced Team Focuses On Your Comfort & Satisfaction
Partnered with Local Specialists for Optimal Results
Replace Any Number of Missing Teeth for Life
What Are Dental Implants?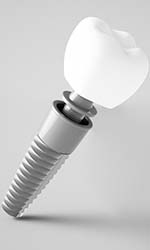 Your natural teeth are made up of two parts. There's the white crown that you see above the gumline, and then the hidden roots beneath it that hold it in place. Dental bridges and dentures only replace the crowns of missing teeth, which leave a lot to be desired in terms of stability, comfort, and longevity. On the other hand, dental implants are designed to rebuild the entire tooth from roots to crown! The dental implant itself is a small titanium post that is inserted directly into the jawbone, where it integrates to become part of it. One or more of these posts can be placed anywhere along the gum ridge to replace any number of missing teeth with a custom-made crown, bridge, or denture. No matter how many teeth you're replacing with dental implants, the final result is a smile that looks, feels, and functions just like natural!
The 4 Step Dental Implant Process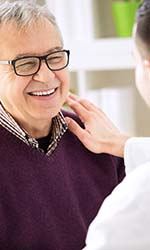 Unlike dentures and dental bridges, getting dental implants requires a unique, multi-step process that will take several months. This may seem like a long time, but when you consider the long-term benefits of dental implants, they are well worth the wait. While every patient's treatment will be unique, here are 4 main steps that you can expect during your process of restoring your smile with dental implants.
Initial Dental Implant Consultation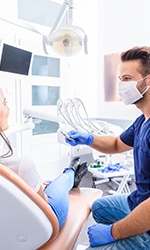 The first step when it comes to restoring your smile is to schedule a consultation with us. During this visit, we will examine your smile and surrounding facial structures. This will help us to determine whether or not you make a good candidate for the procedure and where and how the implants should be placed. Some patients need to undergo preliminary procedures, like bone grafting and gum disease therapy, before being able to get dental implants. Once these treatments are complete, we can move on to planning the rest of your dental implant treatment. We're happy to walk you through what you can expect, including the timeline and cost.
Dental Implant Surgery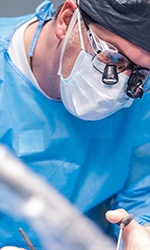 At Studio City Dental Arts, Dr. Shahrestany partners with local specialists to ensure that you have the highest quality of care as possible. She will refer you to one of these oral surgeons or periodontists for your dental implant surgery.
The procedure is relatively straightforward. After numbing your mouth and administering sedation, an incision will be made in the gums and your implant posts will be placed into your jawbone. Afterwards, the gums will be closed, and a protective cap is placed over the posts to keep them safe during the healing process.
Dental Implant Osseointegration & Abutment Placement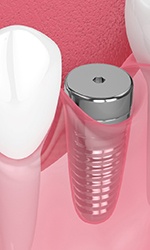 Over the next three to six months, the "osseointegration" process takes place. This is when the implants fuse with the surround bone and tissue in order to create the sturdy foundation that your replacement teeth will need to stay in place. As soon as this process has completed, we can place a metal abutment on top of the implants. This fixture will allow us to connect your restoration to your implant, giving you the finished results.
Delivery of Dental Implant Restorations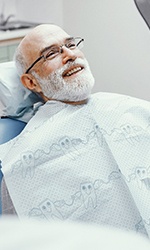 A few weeks after your abutment placement, your restorations should be ready. You will be able to return to our office where you will receive your crown, bridge, or denture (depending on how many teeth you're missing.) During this time, we will also check to ensure that your bite is comfortable, and then you will be ready to enjoy your rebuilt smile!
Benefits of Dental Implants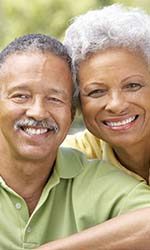 When it comes to tooth replacement, no other option offers the same support that dental implants do. They become embedded in the jawbone in a process called osseointegration, just like a real tooth roots, giving the prosthetic teeth far more stability than traditional dentures or bridges. Whether you're missing just one tooth or an entire arch, implants can be adapted to meet your unique needs. Plus, implants have an extremely high success rate for dentists and patients around the world, averaging above 95% even many years after the placement procedure. Dr. Shahrestany and our team are excited to help you love your smile again!
Day-to-Day Benefits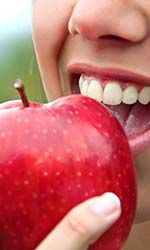 One of the best things about dental implants is their natural look and feel, giving patients the confidence to speak, eat, and smile without worrying about their teeth slipping out of place. They blend well with real teeth both aesthetically and functionally. In fact, no one else should be able to tell that you have prosthetic teeth at all! And what's more, implants require the exact basic maintenance that natural teeth do—daily brushing and flossing, regular checkups at our office, and a well-balanced diet—so you don't have to worry about any extra special care for your replacement teeth.
Health Benefits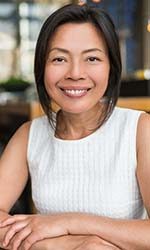 A dental implant is widely considered to be the best solution for a missing tooth because it integrates into the jawbone, which prevents the bone loss and gum recession that usually occurs after you lose a tooth. Because implants continue to stimulate the jawbone, it will retain its youthful shape, and you can avoid that older, sunken look. Unlike with a traditional bridge, there's also no need to alter adjacent teeth for support when you replace a tooth with a dental implant. The more teeth that are left unchanged, the better as far as your overall oral health is concerned.
Long-Term Benefits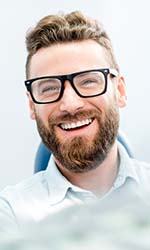 In many ways, implants are the ideal solution for addressing tooth loss, and they are currently the most durable means of doing so, easily lasting for 30 years or more with the proper maintenance. Although dental implants have a high price tag initially, you do not have to pay frequently to replace them like you would with traditional bridges and dentures. In the end, this could actually save you money! Also, with strong, secure teeth, you are able to eat more nutritious, fresh foods like broccoli and leafy greens, helping you enjoy more optimal health in the long run.
Who Dental Implants Can Help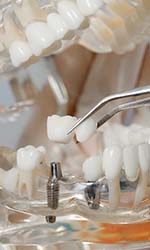 Dr. Shahrestany would highly recommend dental implants for patients missing any number of teeth, as a variety of restorations can be securely attached to the prosthetic roots to replace one or multiple teeth at the same time. Before the treatment can begin, she will perform a brief oral exam, checking to see if you have any outstanding dental issues or a thin jawbone that could make implant placement more difficult. She can help you address any obstacles so you are ready for the procedure and safely able to rebuild your smile.
Who Is a Good Candidate for Dental Implants?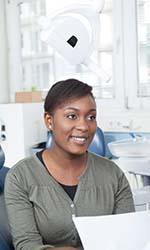 While most patients can benefit from getting dental implants in Studio City, there are a few criteria that we like to meet before undergoing surgery, including:
Any underlying medical conditions that may affect the immune system are being managed and treated.
There's sufficient jawbone density for the implants to fuse with the structure.
The patient has good oral health and is dedicated to maintaining a thorough at-home oral hygiene routine.
A patient stops smoking leading up to and after their surgery to increase the chances of successful healing.
We'll discuss each of these with you at your initial consultation and lay out a treatment timeline so you know what to expect throughout the process. Then, we'll review your unique situation to determine how many dental implants you need as well as what type of restoration.
Missing 1 Tooth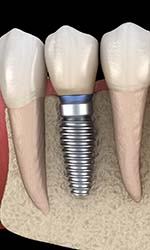 A single custom-made porcelain crown can be directly attached to an implant to fill in the gap in a patient's smile. Dr. Shahrestany personally designs all of our implant restorations herself so that they blend seamlessly with the rest of the teeth. Unlike a partial denture or bridge, this type of restoration is able to stand firm on its own and not put stress on the surrounding teeth and gums, leading to a result that's great for both your appearance and oral health.
Missing Multiple Teeth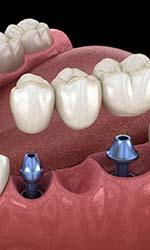 For those missing multiple teeth in a row, replacing each one with a single implant would likely be prohibitively expensive, but fortunately, implants can also be used to support a bridge using a limited number of posts. Two implant crowns are placed on either side of the missing teeth, and these are bonded to additional prosthetic teeth to complete the smile. Compared to a traditional bridge, an implant bridge is much more stable, lifelike, and can be trusted to last longer as well.
Missing All Teeth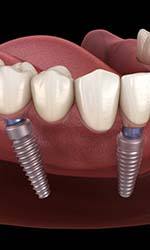 While traditional dentures are an excellent, tried-and-true solution for tooth loss, they do have a few downsides that can dissuade patients from getting them, like shifting and slipping that makes eating certain foods and speaking a little harder. With implant dentures in Studio City, you won't have to worry about this, because the prosthetic will be anchored to anywhere from four to eight dental implants secured along your jaw for enhanced stability, function, and a lifelike appearance.
Understanding the Cost of Dental Implants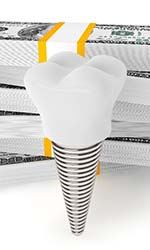 When patients come to Studio City Dental Arts because they're looking to replace their missing teeth, we often recommend dental implants. In many cases, these patients hesitate because they don't want to spend lots of money. While implants do cost more than other tooth replacement options, they offer countless benefits that you simply can't put a price on. Read more below to learn about the various factors that affect the cost of dental implants in Studio City, why they're worth the price, and how you may be able to afford this revolutionary treatment.
Types of Dental Implants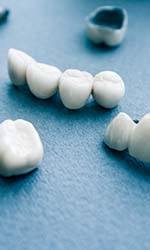 The largest determining factor in dental implant cost is the specific nature of your treatment. For example, it should go without saying that receiving a single implant post with an attached dental crown will cost less than replacing an entire arch of missing teeth with a full denture. Implants can also be made from different materials and placed at varying angles, all of which also impact the cost. If you're a candidate for more than one type of implant procedure, we can help you compare these options (and their costs) to help you make the best decision for your smile.
Are Dental Implants Worth the Investment?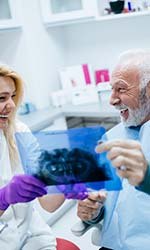 Definitely! Most patients who receive dental implants report that they're worth every penny. That's because they deliver unparalleled benefits, such as sturdiness, jawbone growth, and the ability to look and feel natural. Additionally, they have the potential to last a lifetime, while traditional dentures and bridges must be replaced every 5-10 years. The longevity of dental implants may actually make them a better long-term investment than alternatives with a lower initial cost.
Does My Dental Insurance Cover Dental Implants?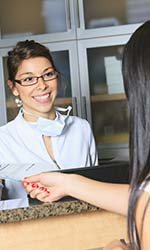 Although many dental insurance companies did not cover the cost of implants at first, more and more of them are beginning to see the health benefits of implants and offer coverage. However, you'll have to check your individual plan. Even if your policy doesn't cover the implants themselves, it may still pay for portions of the treatment, such as preparatory work or your final restoration.
If you don't have dental insurance, or your plan doesn't give you enough coverage, we offer low-interest dental financing through our partnership with CareCredit. We also have a patient referral program which awards you and a new patient you refer to us with $50 that can be put toward any of our services.
Are you interested in investing in your smile with affordable dental implants in Studio City? Contact us today to schedule a consultation!
Dental Implant FAQs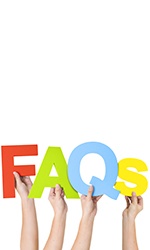 Still not sure if dental implants in Studio City are right for you? If you want to learn more about this popular restorative treatment, keep reading! Our talented team has collected and answered some of the most common questions about dental implants below. If you have a specific question you want to ask or if you would like to schedule an initial consultation, don't hesitate to contact our office.
Am I Too Young to Get Dental Implants?
If you are over the age of 18 and missing teeth, you are likely a good candidate for dental implants in Studio City. Most people's jaws aren't fully developed until young adulthood, with men's jaws usually taking longer to develop than women's jaws do. If dental implants are placed before the jaw is finished growing, it could interfere with further bone development and potentially result in complications. For this reason, most dental professionals will not place implants in patients younger than 18.
Can I Get Dental Implants If I Smoke?
While possible, smokers have a higher rate of dental implant failure compared to nonsmokers. All common forms of tobacco use (smoking, chewing, or vaping) cause dry mouth, slow down healing, and can interfere with an implant's ability to fuse with the jawbone. Smoking can also cause dry socket, a painful condition that occurs when the blood clot that forms over the implant site becomes dislodged. If you're a regular smoker, we recommend quitting at least two weeks before your implant placement procedure. After this surgery, you should wait to resume the habit for at least two or three months. Of course, this is a great opportunity to kick the habit once and for all!
Do Dental Implants Make You Look Younger?
Dental implants do more than just replace missing teeth. They can also rejuvenate your appearance by stimulating your jawbone. The force of biting and chewing spreads through the roots of your teeth to your jawbone. However, when a tooth isn't there, the jawbone loses that stimulation and begins to deteriorate. Without a full, strong jawbone to support the facial structures, you may eventually appear more wrinkled, with a sunken-in face and fine lines around your mouth. Dental implants are the only type of replacement teeth that can stimulate the jawbone, preventing bone deterioration to keep you looking younger.
How Long Do Dental Implants Last?
Looking for a reliable long-term solution for tooth loss? With proper care and maintenance, dental implants can last for 30 years or more! This is significantly longer than the lifespan of traditional bridges and dentures, which usually must be replaced every five to 10 years. How long your dental implants last will depend on your health and lifestyle. Brushing twice a day, flossing, and rinsing with mouthwash daily is key. In addition, you should avoid chewing on anything too hard or sticky and never open packaging with your teeth. Finally, be sure to visit an implant dentist in Studio City every six months for a dental checkup and cleaning.