Dental Implants – Studio City, CA
State-of-the-Art Solution for Missing Teeth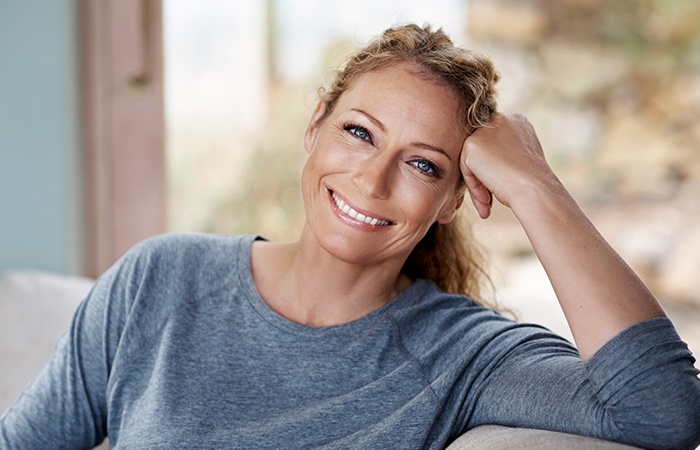 Tooth loss is a problem for many people. While old age is often to blame, other reasons include gum diseases such as periodontitis, injury, and poor overall oral health. Severe cases may result in a disfigured or awkward smile – something everyone wants to avoid. Although many people rely on the use of dentures, these appliances are not always the best solution for every patient. They can be uncomfortable, unreliable, and unnatural, and they don't help prevent bone loss the way a dental implant can. If you want a truly great solution, dental implants are the answer. Studio City Dental Arts can provide you with skillfully-placed, natural-looking implants that can last a lifetime.
Benefits of Dental Implants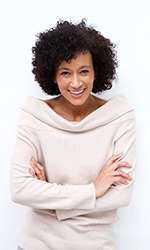 When it comes to tooth replacement, no other option offers the same support that dental implants do. They become embedded in the jawbone in a process called osseointegration, just like a real tooth roots, giving the prosthetic teeth far more stability than traditional dentures or bridges. Whether you're missing just one tooth or an entire arch, implants can be adapted to meet your unique needs. Plus, implants have an extremely high success rate for dentists and patients around the world, averaging above 95% even many years after the placement procedure. Dr. Shahrestany and our team are excited to help you love your smile again!
Day-to-Day Benefits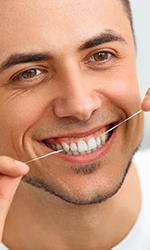 One of the best things about dental implants is their natural look and feel, giving patients the confidence to speak, eat, and smile without worrying about their teeth slipping out of place. They blend well with real teeth both aesthetically and functionally. In fact, no one else should be able to tell that you have prosthetic teeth at all! And what's more, implants require the exact basic maintenance that natural teeth do—daily brushing and flossing, regular checkups at our office, and a well-balanced diet—so you don't have to worry about any extra special care for your replacement teeth.
Health Benefits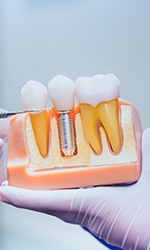 A dental implant is widely considered to be the best solution for a missing tooth because it integrates into the jawbone, which prevents the bone loss and gum recession that usually occurs after you lose a tooth. Because implants continue to stimulate the jawbone, it will retain its youthful shape, and you can avoid that older, sunken look. Unlike with a traditional bridge, there's also no need to alter adjacent teeth for support when you replace a tooth with a dental implant. The more teeth that are left unchanged, the better as far as your overall oral health is concerned.
Long-Term Benefits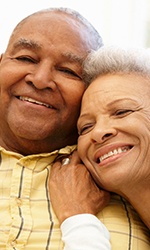 In many ways, implants are the ideal solution for addressing tooth loss, and they are currently the most durable means of doing so, easily lasting for 30 years or more with the proper maintenance. Although dental implants have a high price tag initially, you do not have to pay frequently to replace them like you would with traditional bridges and dentures. In the end, this could actually save you money! Also, with strong, secure teeth, you are able to eat more nutritious, fresh foods like broccoli and leafy greens, helping you enjoy more optimal health in the long run.
Are Dental Implants Right For You?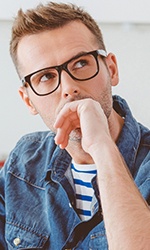 Dr. Shahrestany would highly recommend dental implants for patients missing any number of teeth, as a variety of restorations can be securely attached the prosthetic roots to replace one or multiple teeth at the same time. Before the treatment can begin, she will perform a brief oral exam, checking to see if you have any outstanding dental issues or a thin jawbone that could make implant placement more difficult. She can help you address any obstacles so you are ready for the procedure and safely able to rebuild your smile.
Missing One Tooth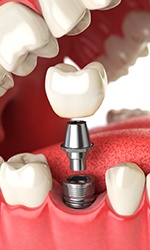 As we touched on above, a single, custom-made porcelain crown can be directly attached to an implant to fill in the gap in a patient's smile. Dr. Shahrestany personally designs all of our implant restorations herself so that they blend seamlessly with the rest of a patient's teeth. Unlike a partial denture or bridge, this type of restoration is able to stand firm on its own and not put stress on the surrounding teeth and gums, leading to a result that's great for both your appearance and oral health.
Missing Several Teeth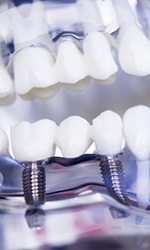 For those missing multiple teeth in a row, replacing each one with a single implant would likely be prohibitively expensive, but fortunately, implants can also be used to support a bridge using a limited number of posts. Two implant crowns are placed on either side of the missing teeth, and these are bonded to additional prosthetic teeth to complete the smile. Compared to a traditional bridge, an implant bridge is much more stable, lifelike, and can be trusted to last longer as well.
Learn More About Implant Dentures
Understanding the Cost of Dental Implants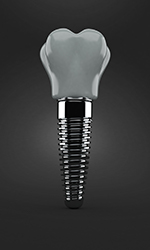 Dental implants are able to meet the needs of patients with varying degrees of tooth loss, so the cost of the procedure can differ quite a bit from person to person. Factors such as how many teeth a patient wants to be replaced, what type of restoration they choose, and whether or not they have insurance coverage are all things that can influence the final price. Regardless, implants are still the most cost-effective option largely due to their longevity.
Typically, traditional bridges and dentures need to be completely redone every 7-10 years, while dental implants can easily last for 30 or more, often making them a one-time cost.
Also, our office offers flexible, low-to-no interest financing, meaning the cost of your implants can be broken down into much smaller monthly payments that fit easily into your budget. Dr. Shahrestany can let you know the cost of dental implants in Studio City as well as go over your financial options when you come to see her for an initial consultation. To schedule one, contact us today.
Preliminary Treatments & Dental Implant Surgery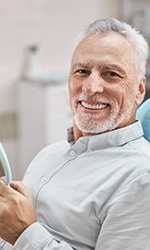 Scheduling an initial consultation with your implant dentist in Studio City is necessary to determine if you will need preliminary treatments before receiving your dental implants. These additional services will add to the total cost of your care; however, they are necessary for some individuals to ensure the success of the prosthetics well into the future. These can include bone grafting, tooth extraction, and periodontal therapy.
Also, your dental implant surgery is a separate charge. Since we work with outside specialists to perform the surgical portion of your treatment, there will be two different fees: one for the surgery and the other for your restoration.
The Parts of Your Dental Implant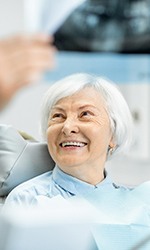 Another component of your total cost estimate is the different parts of your dental implants. While it may not seem as if it's possible, the number of implants you need as well as the type of restoration, the material used, and the brand will determine how much you can expect to pay for treatment.
How many dental implants you will need –When only one tooth is missing, you will only need one dental implant. If missing multiple teeth, you will need at least two implants. If an entire arch of teeth is missing, you'll likely need anywhere from 4-8 implants. Naturally, the more implant posts you need, the more expensive your treatment will be.
The type of restoration you will need – When meeting with your implant dentist, they will determine the type of restoration you will need based on the number of implants your mouth will require. This can be a crown, bridge, or denture.
Materials – Titanium and zirconia are the two most common materials used to create dental implants.
Brand/Manufacturer – The brand and manufacturer of your dental implants are largely based on the individual performing your surgery. Because there are many different types and brands available, it is always best to choose a more expensive option, as it will produce greater results.
How Dental Implants Can Save You Money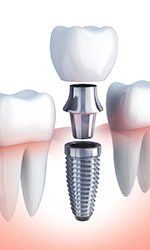 Do you want to save money in the long run? If so, dental implants in Jacksonville will allow you to do just that. Instead of paying for denture adhesives, special cleaning supplies, and regular adjustments and replacements every 7-10 years, you can enjoy a prosthetic that offers greater stability, functionality, and longevity. You'll never need to spend your hard-earned money on any of the items listed above, as dental implants are designed to fuse with your bone and look and act just like regular teeth.
You can maintain better oral health as a result of your implants, minimizing your risk for more serious dental problems along the way. However, you must be committed to practicing good oral habits at home if you want your prosthetics to potentially last a lifetime. You will also find that with dental implants, you and reduce your chances of developing systemic issues that can shorter your lifespan (i.e., diabetes, osteoporosis, and heart disease), which can be costly to treat over time.
Does My Dental Insurance Cover Dental Implants?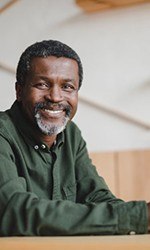 Although many dental insurance companies did not cover the cost of implants at first, more and more of them are beginning to see the health benefits of implants and offer coverage. However, you'll have to check your individual plan. Even if your policy doesn't cover the implants themselves, it may still pay for portions of the treatment, such as preliminary work or your final restoration. Our team at Studio City Dental Arts will work with you to maximize your benefits and get the most out of your plan, so you can save the most money.
Making Dental Implants Affordable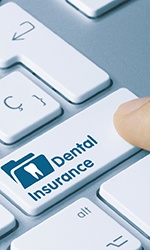 If you don't have dental insurance, or your plan doesn't give you enough coverage, we offer low-interest dental financing through our partnership with CareCredit. We also have a patient referral program that awards you and a new patient you refer to us with $50 that can be put toward any of our services. This can help keep the cost of your dental implants more affordable, allowing you to remain well within your budget while pursuing a complete and fully functional smile.
Are you interested in investing in your smile with affordable dental implants in Studio City? Contact us today to schedule a consultation!
Dental Implant FAQs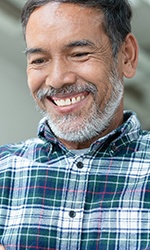 Thinking about replacing your missing teeth with dental implants? At Studio City Dental Arts, Dr. Shahrestany wants you to have all the necessary information you need to make a well-informed, confident decision about your dental health. Knowing the ins and outs of treatment can serve you well as you work to improve your smile, which is why she and her team have compiled some frequently asked questions about dental implants that are sure to help you in your decision-making process. After reviewing, if you have any additional questions, we invite you to contact our office.
Will I be to eat what I want with dental implants?
Unlike traditional dentures or other fixed restorations, dental implants look and feel just like regular teeth. Mimicking your natural tooth structure, you will be able to enjoy all the foods you love. While it is recommended that you avoid hard, crunchy foods that can easily chip or break your real or artificial teeth, this is the only caveat you should consider with or without dental implants.
Does it hurt to receive dental implants?
When having your dental implants put into place, you will receive local anesthesia to ensure you are comfortable and pain-free throughout the procedure. It is natural that afterward, you will feel some soreness in the areas of your new implants; however, this discomfort will pass over time. In the days after your surgery, you'll need to make sure to eat soft foods and be mindful when cleaning in and around your implants.
If necessary, feel free to take an over-the-counter pain reliever to minimize discomfort and use a cold compress to reduce any swelling.
Will I need a bone graft or sinus lift?
During your consultation with Dr. Shahrestany, she will determine if you have ample bone for dental implant placement. If not, it will be recommended that you undergo a bone graft or sinus lift depending on the location of the missing teeth deteriorating jawbone. Not all patients preparing for dental implants need this type of procedure; however, should you, it will require placing additional bone minerals into the weakened areas of the bone and allowing it to grow and strengthen over several months. Once the bone is strong and can provide a stable foundation, you can begin the process of moving forward with dental implants.
Can I expect my dental insurance to cover the cost of surgery?
This is dependent upon your individual plan. Many insurance companies still do not cover the cost of dental implants; however, others are beginning to recognize this form of restorative dentistry as a necessity.
It is important that you speak to a representative from your insurance provider to determine what or if any coverage is available. If you would prefer, a member of our team can do this on your behalf. No matter the answer, we will be happy to identify ways in which you can still receive this form of restorative care without emptying your bank account. There are available payment methods you can use to stay within your budget and still receive a fully restored smile.