Dental Implants – Studio City, CA
State-of-the-Art Solution for Missing Teeth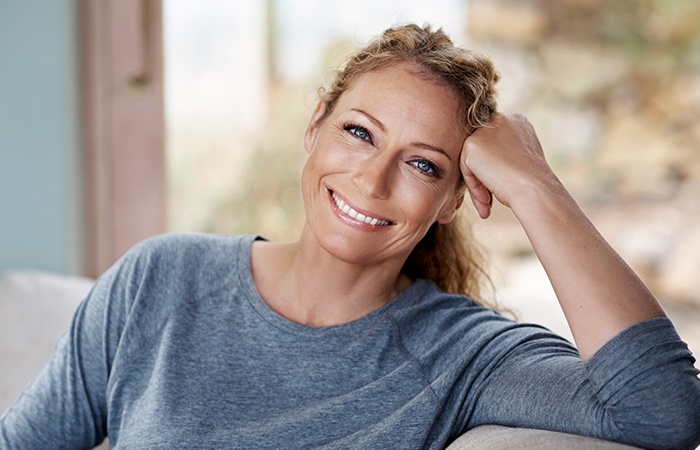 Tooth loss is a problem for many people. While old age is often to blame, other reasons include gum diseases such as periodontitis, injury, and poor overall oral health. Severe cases may result in a disfigured or awkward smile – something everyone wants to avoid. Although many people rely on the use of dentures, these appliances are not always the best solution for every patient. They can be uncomfortable, unreliable, and unnatural, and they don't help prevent bone loss the way a dental implant can. If you want a truly great solution, dental implants are the answer. Studio City Dental Arts can provide you with skillfully-placed, natural-looking implants that can last a lifetime.
Benefits of Dental Implants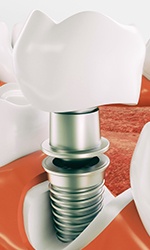 Dental implants are artificial tooth roots placed into the jaw to support and hold a replacement tooth or bridge. In many ways, they are the ideal solution for addressing tooth loss, and they are currently the most durable means of doing so, easily lasting for 30 years or more. One of the best things about dental implants is their natural look and feel, giving patients the confidence to speak, eat, and smile. They blend well with real teeth both aesthetically and functionally.
A dental implant is widely considered to be the best solution for a missing tooth because it integrates into the jawbone, which prevents bone loss and gum recession in addition to providing you with a new tooth. There's also no need to alter adjacent teeth for support. The more teeth that are left unchanged, the better as far as your overall oral health is concerned. And, they have an extremely high success rate for dentists and patients around the world, averaging above 95%.
An implant is placed into the bone on the site of the missing tooth. Once it heals, we place an abutment (post) and attach a crown fabrication on top. Of course, treatment methods depend on individual needs. Your specific situation and implant choice will dictate the length of time and healing period for this treatment. Nevertheless, dental implants allow Dr. Shahrestany to replace not just one, but several missing teeth for a lifetime.
Are Dental Implants Right For You?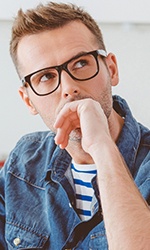 Dr. Shahrestany would highly recommend dental implants for patients missing any number of teeth, as a variety of restorations can be securely attached the prosthetic roots to replace one or multiple teeth at the same time. Before the treatment can begin, she will perform a brief oral exam, checking to see if you have any outstanding dental issues or a thin jawbone that could make implant placement more difficult. She can help you address any obstacles so you are ready for the procedure and safely able to rebuild your smile.
Missing One Tooth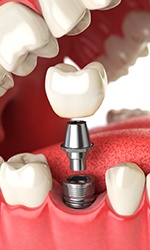 As we touched on above, a single, custom-made porcelain crown can be directly attached to an implant to fill in the gap in a patient's smile. Dr. Shahrestany personally designs all of our implant restorations herself so that they blend seamlessly with the rest of a patient's teeth. Unlike a partial denture or bridge, this type of restoration is able to stand firm on its own and not put stress on the surrounding teeth and gums, leading to a result that's great for both your appearance and oral health.
Missing Several Teeth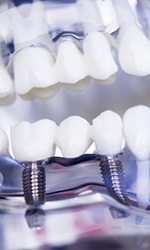 For those missing multiple teeth in a row, replacing each one with a single implant would likely be prohibitively expensive, but fortunately, implants can also be used to support a bridge using a limited number of posts. Two implant crowns are placed on either side of the missing teeth, and these are bonded to additional prosthetic teeth to complete the smile. Compared to a traditional bridge, an implant bridge is much more stable, lifelike, and can be trusted to last longer as well.
The Cost of Dental Implants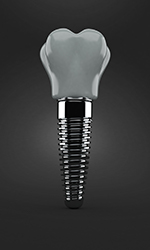 Dental implants are able to meet the needs of patients with varying degrees of tooth loss, so the cost of the procedure can differ quite a bit from person to person. Factors such as how many teeth a patient wants to be replaced, what type of restoration they choose, and whether or not they have insurance coverage are all things that can influence the final price. Regardless, implants are still the most cost-effective option largely due to their longevity.
Typically, traditional bridges and dentures need to be completely redone every 7-10 years, while dental implants can easily last for 30 or more, often making them a onetime cost.
Also, our office offers flexible, low-to-no interest financing, meaning the cost of your implants can be broken down into much smaller monthly payments that fit easily into your budget. Dr. Shahrestany can let you know what your particular procedure will cost as well as go over your financial options when you come to see her for an initial consultation. To schedule one, contact us today.