August 13, 2021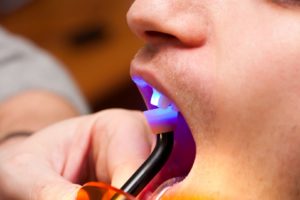 There are more options than ever to achieve a picture-perfect smile; however, one procedure continues to stand out among all other elective procedures. According to a 2017 study by the American Academy of Cosmetic Dentistry, over 43% of all cosmetic procedures involved dental bonding. It's an affordable, convenient, and minimally invasive solution to treat several issues, like decay, chips, or cracks. You might believe cosmetic dentistry isn't in your budget, but that might not be the case. Here's how much you can expect to pay for your dream smile using dental bonding.
What is Dental Bonding?
Dental bonding is a procedure that offers both cosmetic and restorative benefits, making it versatile to resolve multiple imperfections. A composite resin material is shaded to match the color of your teeth to blend in with your enamel. It can be used to resolve several flaws, such as:
Tooth decay
Discoloration and stains
Exposed tooth roots
Chipped or cracked teeth
Gaps between teeth
You can revamp your smile after just one appointment. You'll have natural-looking results that can last for years with the right aftercare.
How Much Does Dental Bonding Cost?
Everyone's smile is unique, so there's not a set fee for dental bonding because a cookie-cutter treatment plan just won't work. You have specific needs and goals, which affect the amount you'll pay. Various factors influence the cost of the procedure, such as:
Number of Teeth: If you'll be treating several teeth, you can expect your estimate to include the fees for each tooth.
Complexity: If you only want to make a small adjustment to your smile, your procedure will cost less than a patient who's making major changes.
Dental Insurance: Since dental bonding offers restorative benefits, it may be covered under your dental insurance if deemed necessary for your oral health, like fixing a cracked tooth.
Is it Worth the Investment?
You can't put a price tag on the benefits that come along with an attractive smile. Not only will you boost your self-esteem, but you'll also gain a youthful, professional, and intelligent appearance to change the way others see you.
When compared to other elective procedures, dental bonding offers a lot of bang for your buck because of its diversity. It is also more affordable than other treatments without compromising aesthetics or durability. Your new smile can last for 5-10 years before needing to be replaced. You can protect your investment by committing to your oral hygiene and visiting your dentist regularly.
A beautiful smile isn't only for celebrities. You can achieve the smile of your dreams without breaking the bank. Schedule your consultation for dental bonding to take your first step toward a confident future.
About Dr. Proshat Shahrestany
Dr. Shahrestany earned her dental degree from the UCLA School of Dentistry. She has completed additional training in various specialties, including Invisalign, extractions, and cosmetic dentistry. With over 20 years of experience, she provides the high-quality care you deserve. Contact our office today to see if you're a candidate for dental bonding.
Comments Off

on How Much Does Dental Bonding Cost?
No Comments
No comments yet.
RSS feed for comments on this post.
Sorry, the comment form is closed at this time.