March 11, 2021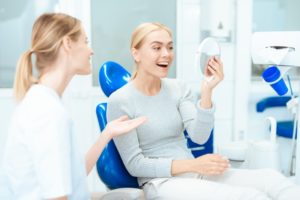 There is a reason why a beautiful set of pearly whites is often called a "Hollywood smile." If you've ever wondered why so many of your favorite stars have such perfect teeth, there's a good chance they've received cosmetic dentistry. Did you know that quite a few of your favorite celebrities like Tom Cruise, Miley Cyrus, George Clooney, Demi Moore, Zac Efron, and many more have porcelain veneers? They're not the only ones though! Keep reading to learn more about cosmetic dentistry and how it can benefit you too!
How Can Cosmetic Dentistry Transform Your Smile?
Cosmetic dentistry is not just for the rich and famous. In fact, in 2020, the market size for cosmetic dentistry was estimated at $4 billion! If you're considering it and wondering why it's so popular, here are several of the many options available and the different ways they can benefit your smile:
Porcelain Veneers
As mentioned above, porcelain veneers are an extremely popular cosmetic dental procedure amongst both celebrities and the rest of the public. These extremely thin shells made of strong porcelain are adhered to the front of your natural teeth, masking flaws such as dark stains, cracks, chips, and even gaps. Your dentist will also be able to match the color of the veneers to the surrounding teeth, leaving you with a beautiful natural-looking smile.
Metal-Free Dental Restorations
If you had a cavity filled or a crown placed on a tooth when you were younger, there's a good chance your dentist used a dark, silver-colored material called amalgam. Prior to the popularization of tooth-colored resin, this was the most commonly used restoration. Thanks to advancements in cosmetic dentistry, your dentist can now replace the old restorations with new ones that you won't even be able to distinguish!
Dental Bonding
This procedure is great for minor cracks or chips in teeth. Using the same material that they would for a filling or crown, your dentist can sculpt around the flawed tooth, and then harden the resin with a special UV light. The process can be completed within an hour and will leave your smile looking good as new.
Professional Whitening
One of the most common types of cosmetic dentistry is professional teeth whitening. If you've ever tried over-the-counter whitening strips or gels and not seen the results you were expecting, you're not alone! In just one visit, your dentist can whiten your teeth up to eight shades using a professional, state-of-the-art, in-office treatment. That means no more money or time wasted on OTC products that don't get the job done.
Are you ready to have a smile fit for the red carpet? Talk to your dentist about which cosmetic dental option is right for you!
About the Practice
Dr. Proshat Shahrestany is the founder of Studio City Dental Arts, and since 2012 she has been transforming smiles. Nothing makes her happier than helping restore her patients' confidence through cosmetic dentistry. She is consistently continuing her education so that she can continue to provide the highest quality of care and keep her practice abreast of the most modern technologies and treatments. Are you ready for a Hollywood smile? You can book a consultation online or call (818) 760-0200.
Comments Off

on Cosmetic Dentistry is Not Just for the Rich and Famous
No Comments
No comments yet.
RSS feed for comments on this post.
Sorry, the comment form is closed at this time.