October 18, 2020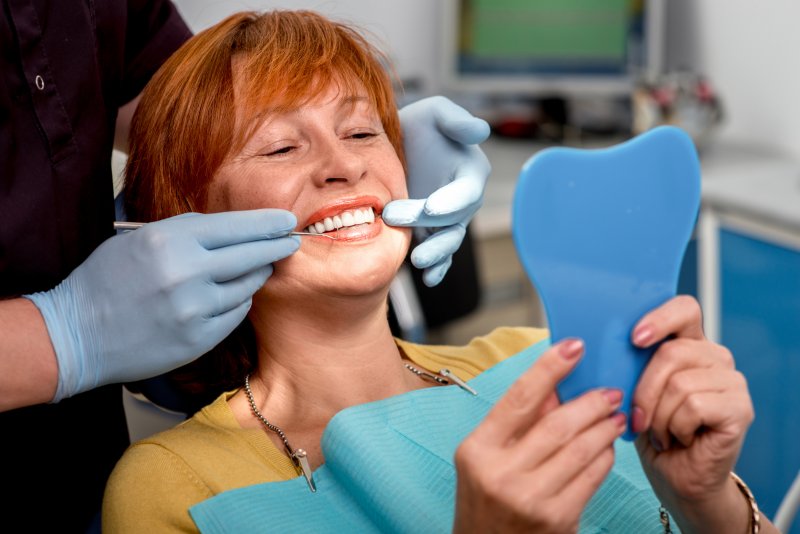 The main purpose of dental implants is to improve the function of your smile by replacing missing teeth. However, they are also known for looking incredibly natural. Unless you tell someone, no one will even know that it's there. There are multiple different aesthetic details that your dentist must consider in order to leave you with a beautiful, natural looking smile. Continue reading to learn more about the cosmetic benefits of dental implants.
Enhanced Bone Tissue
When you are missing teeth, your bone will begin to be reabsorbed and shrink. This is because the vacated area is no longer being stimulated by regular chewing. This will leave you with the appearance of sunken cheeks and other traits that will ultimately make you look older. Dental implants are the only tooth replacement option that replaces the natural root of the tooth and maintains the integrity of the jawbone.
Customized Replacement Teeth
For the most natural looking result, the crowns that are placed on the end of your dental implants are custom-made. They will be chosen by your dentist in order to match the size, shape, and color needed to blend in naturally with the rest of your smile. This takes thoughtful planing in order to ensure that the new tooth will fit properly and be the same length as the adjacent one.
Prosthetic Design
When adjacent teeth are being restored, crowns are sometimes designed in order to reduce the volume of the interdental space. This is often done if there is a triangle space left between the teeth as a result of the absence of an adequate papilla.
Optimal Implant Placement
After careful planning, your dentist will place your implant into the jawbone in the most ideal place for osseointegration to take place. This will allow it to function more efficiently and increase its stability. In addition to placing it in the most optimal location, it must also be placed in accordance with soft tissue deficiencies and provide enough space around the implant for an aesthetically pleasing result.
Soft Tissue Management
In some cases, patients getting dental implants are able to have their gum tissue reconstructed in order to provide a better appearance. This is an extra step that can lead to more aesthetically pleasing results for patients who have suffered from gum recession in the past.
If you're missing teeth and looking for a solution that will leave you with a beautiful smile, dental implants may be the way to go. Ask your dentist if you would make a good candidate. You'll have your smile back in no time!
About the Author
Dr. Proshat Shahrestany earned her dental doctorate from the top-ranked UCLA School of Dentistry and has been working in the field for more than two decades. She is a member of the American Dental Association, California Dental Association, and the San Fernando Valley Dental Society. For more information on dental implants or to schedule an appointment at her office in Studio City, visit her website or call (818) 760-0200.
Comments Off

on 5 Cosmetic Benefits of Dental Implants
No Comments
No comments yet.
RSS feed for comments on this post.
Sorry, the comment form is closed at this time.